Early Summer Color in the Berkshire Garden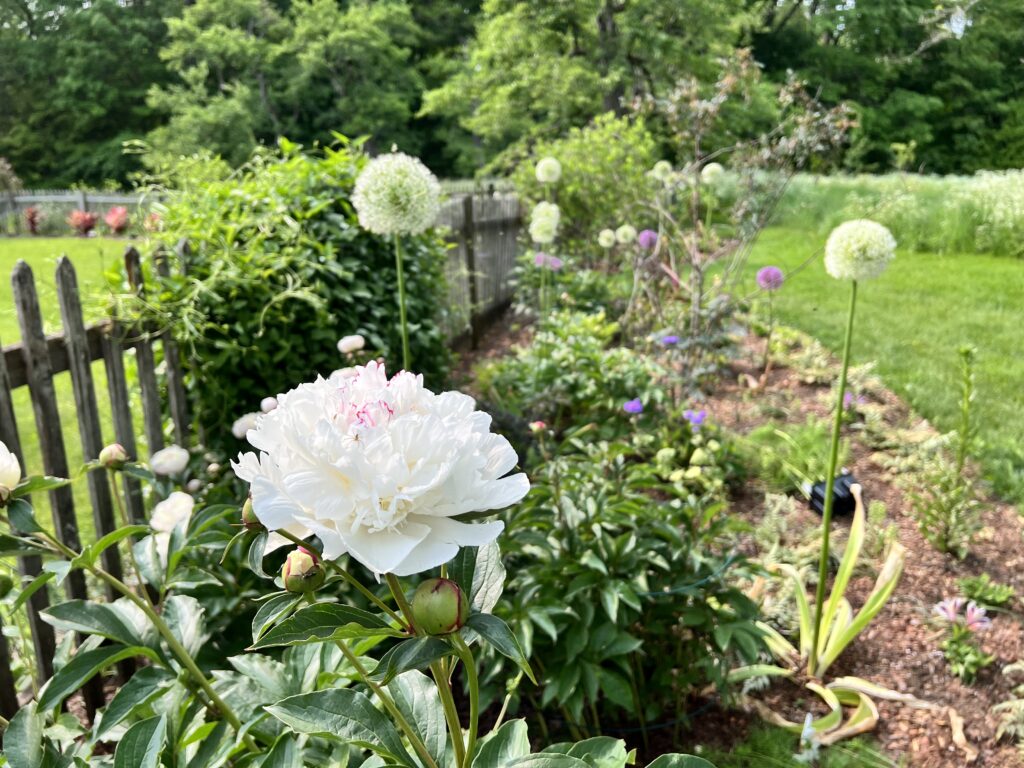 If you are someone that loves gardening, then you know that one of the main challenges or considerations in a garden is the timing of your garden color throughout the season—many garden lovers want to be sure they get a a season of color, and not need to wait until late July or August for their blooms to begin.
One of the more difficult times of year to maximize color in the garden can be in the earlier months, before many of your perennials have grown in. You of course have your earlier spring months, when tulips, daffodils and many flowering fruit frees or magnolias take the spotlight—but what about after that?
This post will focus on some garden ideas and inspiration for those early summer moments, after your spring bulbs, and before the summer splendor here in the Berkshires.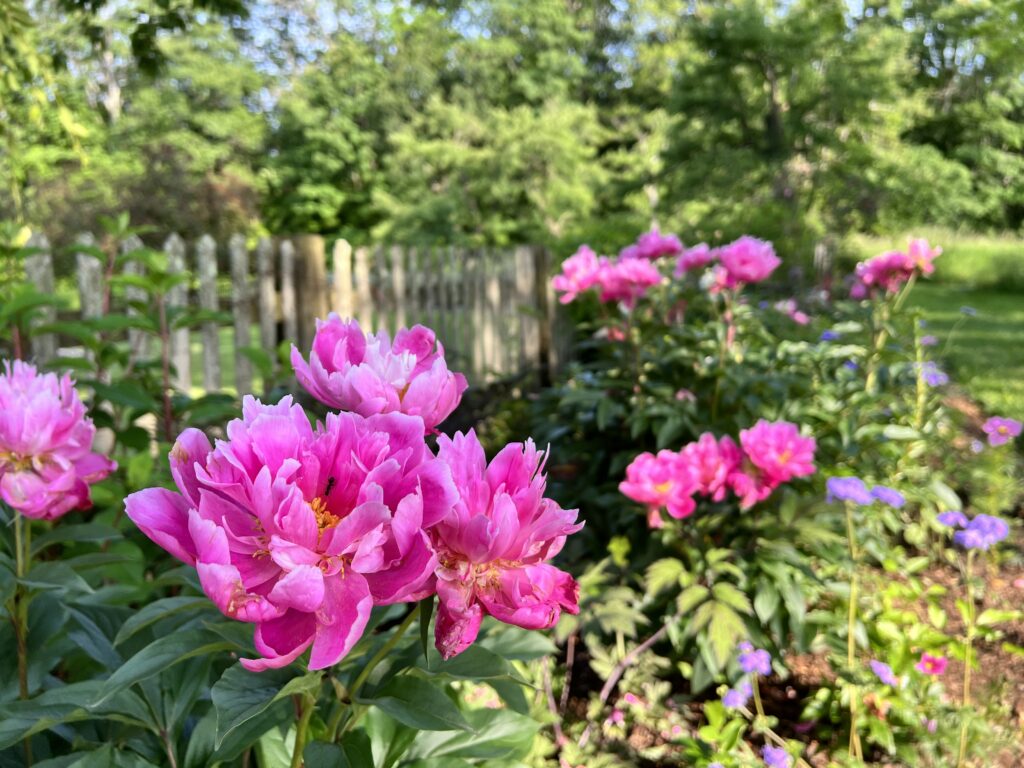 Make a Statement with Peonies
Peonies are the classic "summer is around the corner" plant—once these beauties bloom, you know we're headed towards warmer days. We love incorporating peonies into our gardens for a BIG statement in early June.
Benefits of peonies, besides their obvious lush and beautiful flowers, are that they have lovely foliage year-round. This low, bushy perennial will blend nicely with everything else that grows in. Plus, peonies are relatively low-maintenance. They DO usually need to be caged so that their huge flower heads don't topple over, and you might want to dead-head them all when they are done blooming, but we think it's a small price to pay for their gorgeous impact.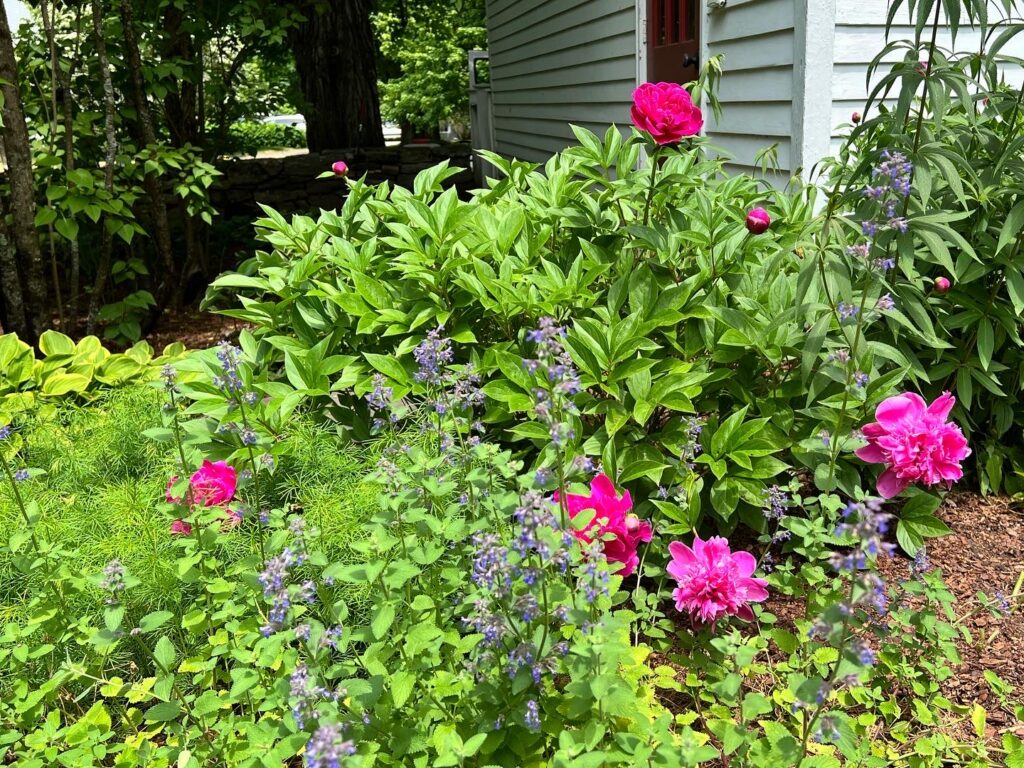 One of our top choice picks for lower growing border perennials that provide great early color is Nepeta. Also known as Catmint, Nepeta grows in fast and shows color early with plumes of blue-purple. It also mixes great with Peonies! (see above photo).
Consider also the impact of contrasting blooms in otherwise understated perennials. We love the combination of blue Nepeta with contrasting yellow Ladysmantle in this border planting here.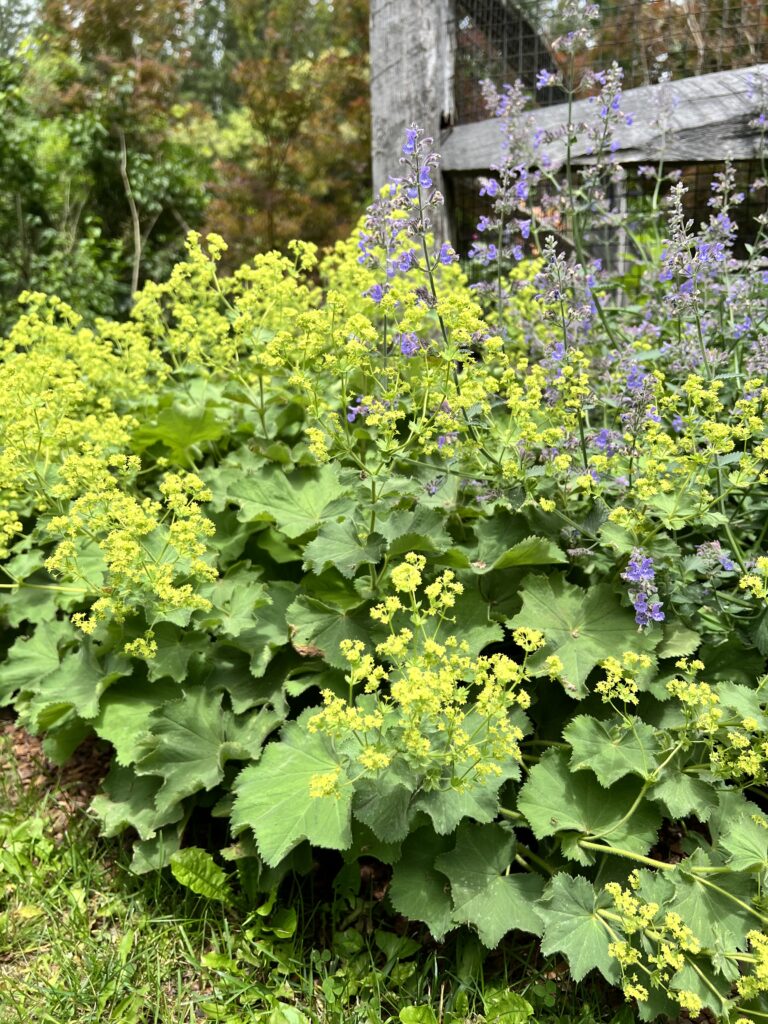 We love being inspired by nature, so another great cue for early color is to take note of what gives great color growing wild in fields—like Lupine! Lupine is lovely in the garden as an upright flower with vividly colored flowers in a range of hues. We love using it mixed into cottage gardens and field garden designs as a nod to native beauty.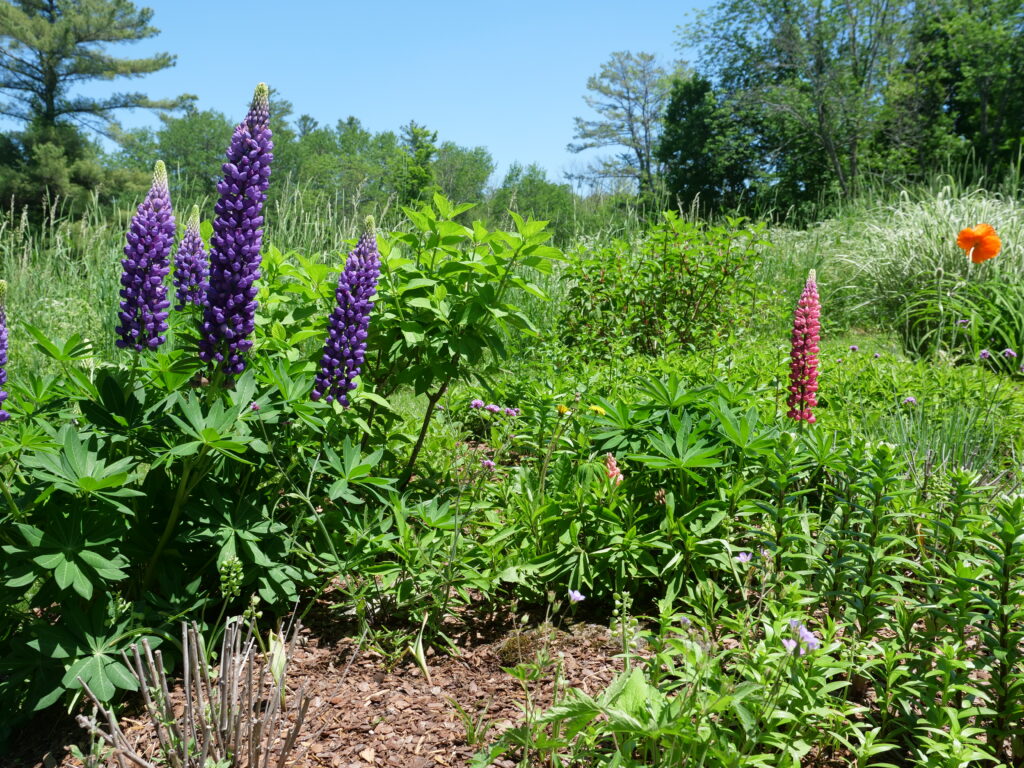 Another bold flower choice for field garden style designs is Poppies—you can spot some behind the Lupine we have pictured above! We have also utilized Poppy flowers in "wildflower" areas—see blow for an example of a native wildflower seed blend that we curated for a client's hillside, meant to maximize color all season long.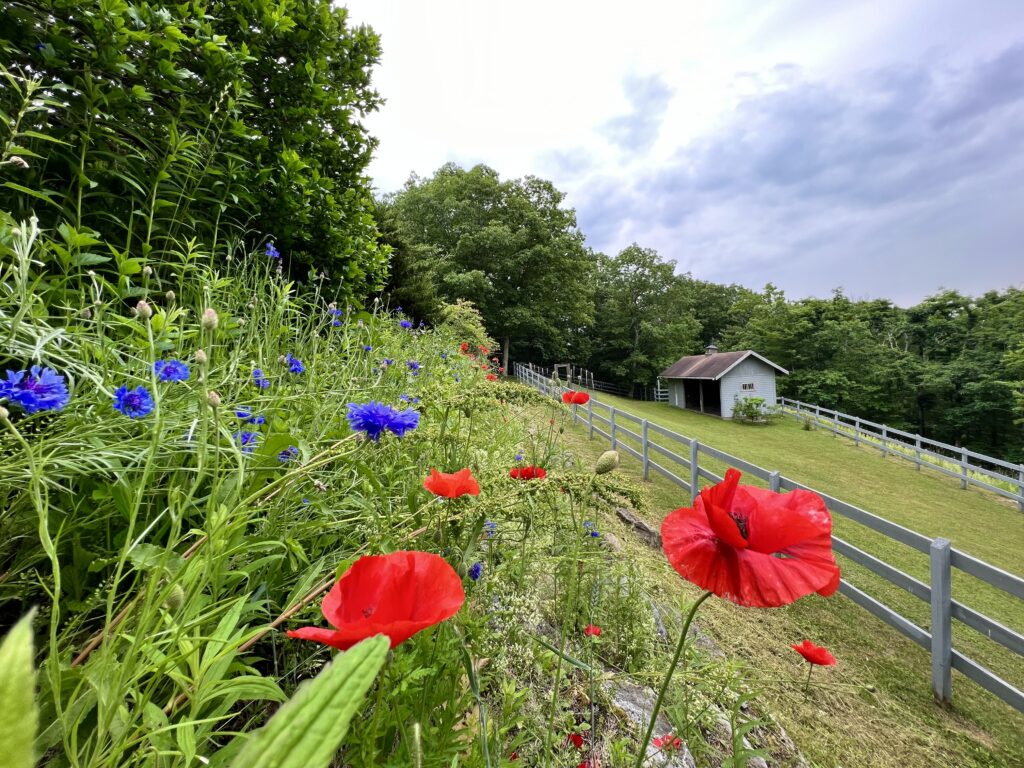 With so many varieties, the Iris is another flower that can maximize your early summer color in the garden. Be sure to select a variety with colors that will play off of surrounding plants. We also recommend planting irises in masses for the best effect like we've done in this garden below: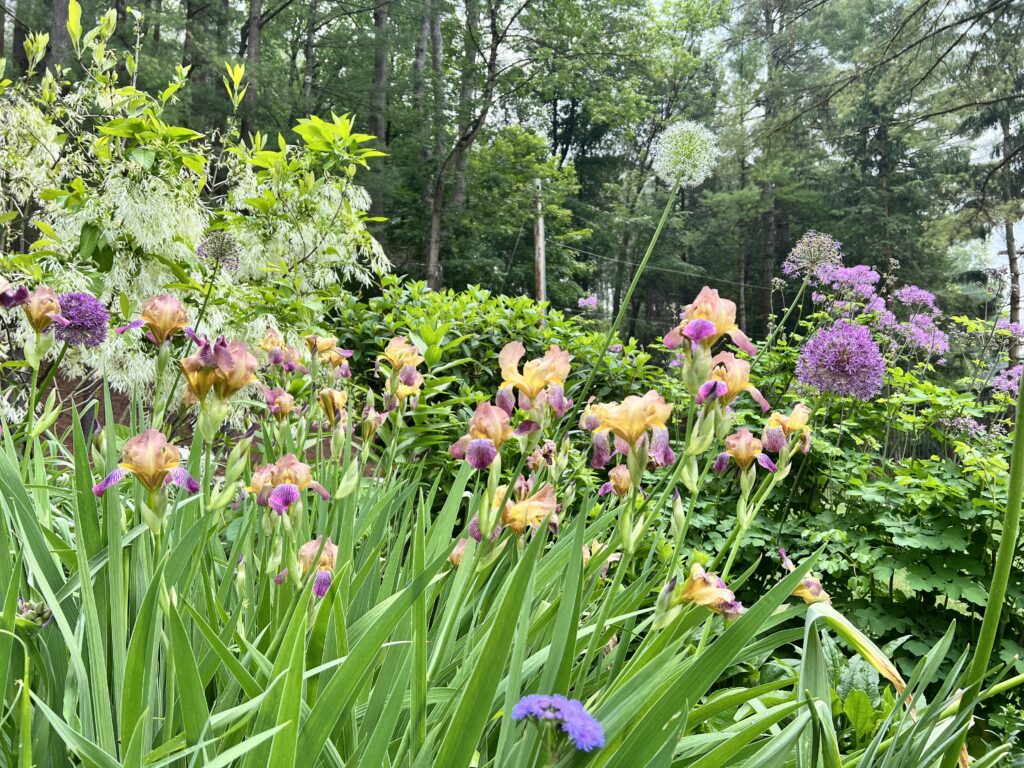 Look for Variety in Alliums
Alliums may be thought of as a spring bulb, as they begin blooming alongside tulips, however look into allium varieties that extend later into the season. We plant a mix of alliums from early blooming, to late blooming, as the color and texture really complements other plants during all early parts of the gardening season.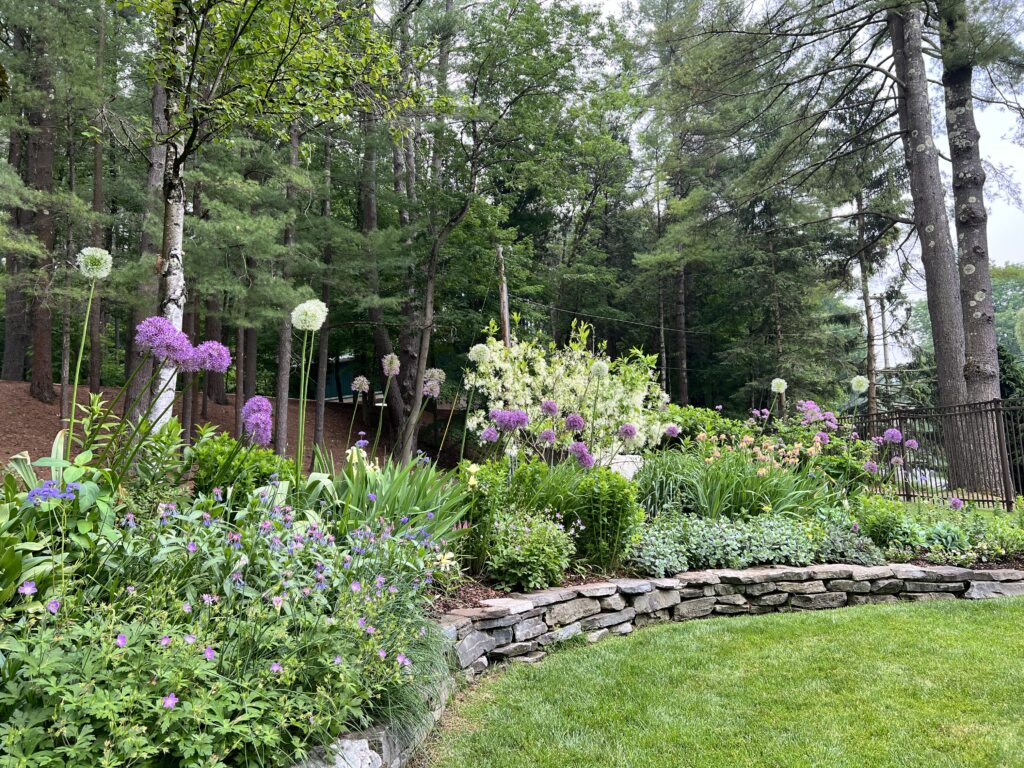 Our Signature Planting: The Fringe Tree
Last but not least, we must mention the Fringe Tree! It's our signature planting after all. We love this tree for so many reasons: it looks great, smells absolutely wonderful, and it blooms at a time when other trees aren't. It provides a great whimsical texture to a garden, and it has beautiful foliage that looks nice all season. See the photo above so how it anchors an early summer garden! And of course, see below for a close up.
(For more information about the Fringe tree, see our post here!)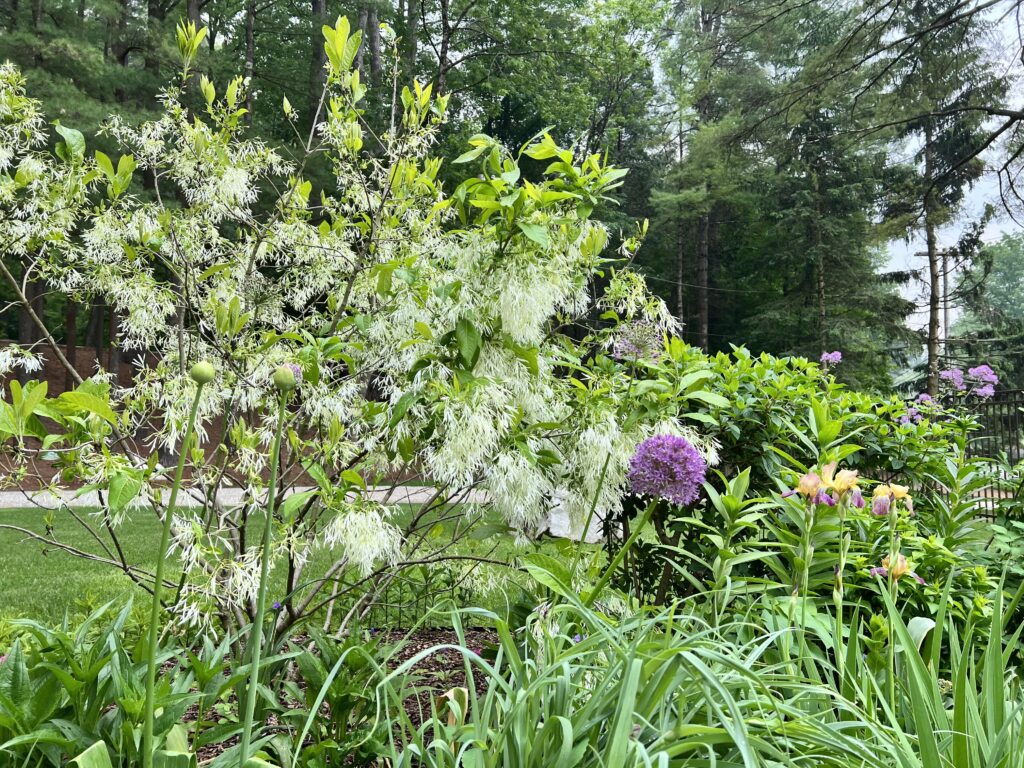 What are your favorite early summer plantings? Let us know!