Tips & Inspiration for Creating Holiday Pots
Another beautiful gardening season in the Berkshires has come to a close. After prepping the garden beds for a long winter, there's really only one thing left to do: winter and holiday decor.
Many of our clients are actually not around for most of the winter here in the Berkshires, but the few that are do enjoy a festive winter pot to add some holiday cheer, and color, to an otherwise very long and quiet winter. And, as the days get colder and darker, it is a really fun way to wrap up the garden season!
Tip 1: Winter Pots are Long-Lasting!
The funny thing about winter and holiday garden pots is that they are actually the ones that stick around the longest! Think about it… we plant these in November, and switch them out… in MAY. This is important to keep in mind when choosing your materials. Winter pots are versatile, and remember that you can put live plants in your pots, as well as festive cuttings and decor!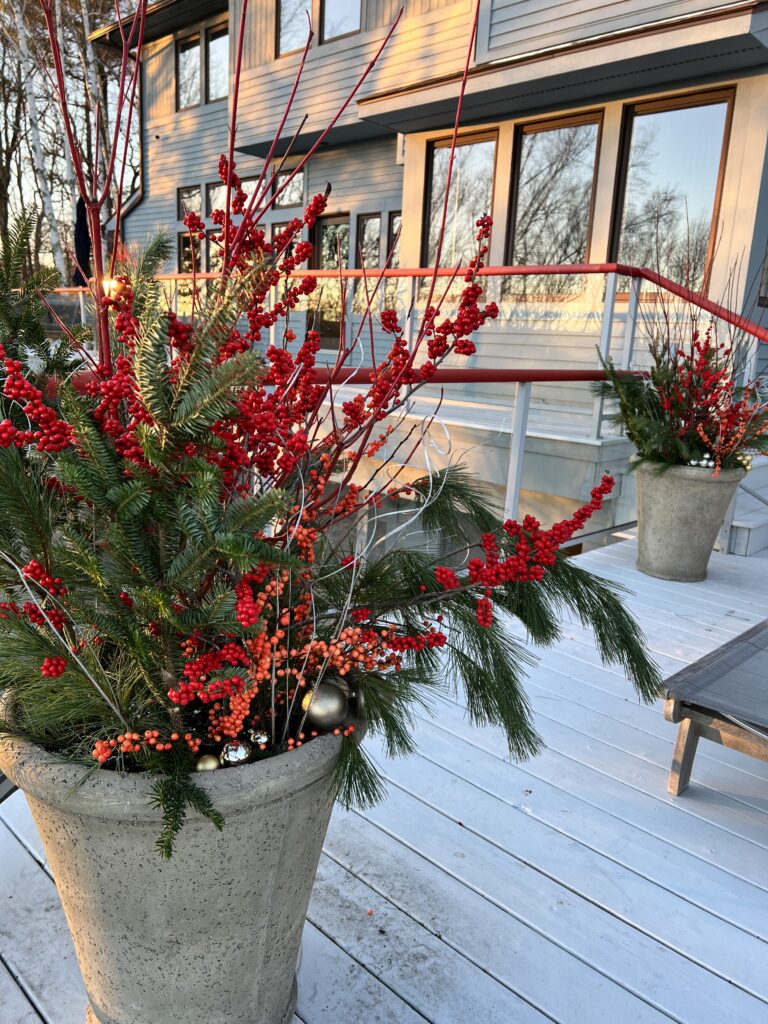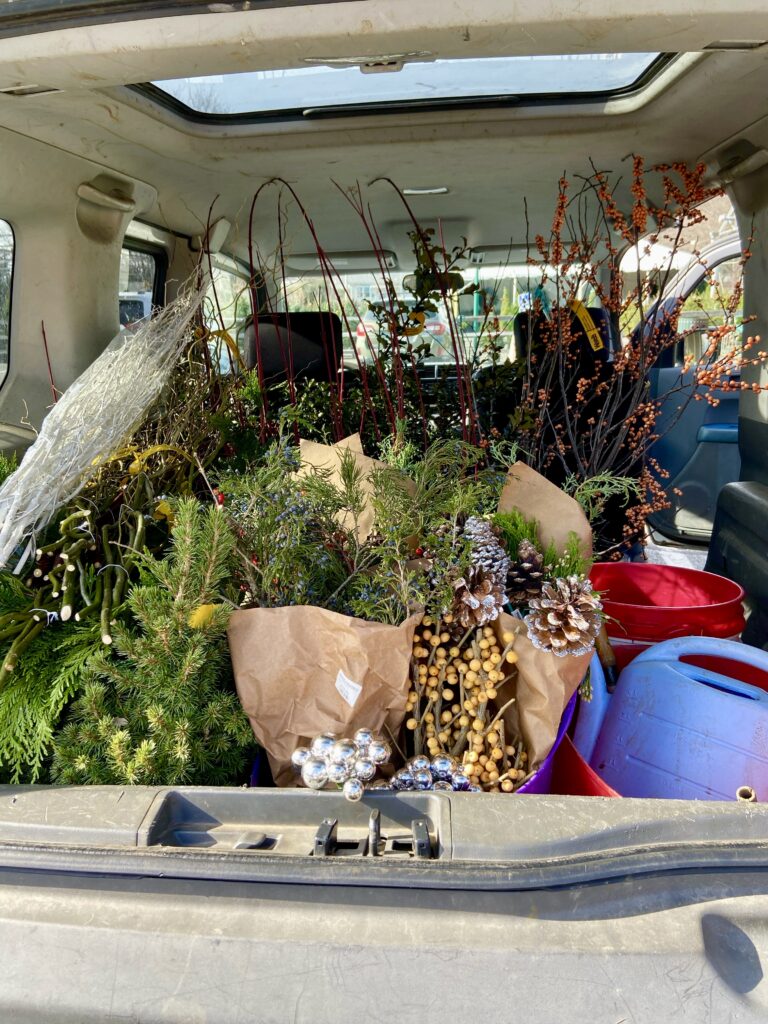 Much of gardening is dependent on nature and weather-related factors, and this is something to also keep in mind with planning your winter pots! 
As we said, live plants are definitely an option when planting winter pots, as long as they are hardy and still interesting during the snowy winter months. Live plants can be planted right away when you remove your fall plant material from your pots, making this an easy transition.
Interested in using cut branches? You'll want to remember this important tip: wait until the days are consistently COLD, like 40 degrees or lower, to keep the cuttings fresh and make them last longer! 
With this being said, you will need to plan accordingly, and perhaps plant any lives plants first, and add your cuttings later—or do everything together once it is consistently colder.
Tip 3: Choose the Best Plants & Materials.
Though winter pots can be assembled only of branch cuttings, we like to incorporate live plants because they tend to be comparable in price, and have an added bonus of being added to the landscape in the spring! When planting live plants, it's important to remember that they should not only be plants that will survive the winter, but  also LOOK GOOD all winter, too. Evergreen trees, Winterberry shrubs, and Red Twig Dogwood shrubs are all great choices!
We like to use this live plant as a base in our pots, and then add cut branches to decorate, or fill in any empty spaces—you want lush, full pots! You are of course welcome to prune your own evergreen trees for this use, or your local plant nursery will usually stock various evergreen cuttings as well. It's worth it to venture out to local garden centers and see what kinds of beautiful cuttings they may have in store, like various winterberry, willow branches, red twig dogwood branches, and fancier evergreens than you might have in your backyard.
The finishing touch is, of course, more traditional decor—like Christmas bulbs, garlands or colorful/metallic accents to give you pot that sparkle or pop!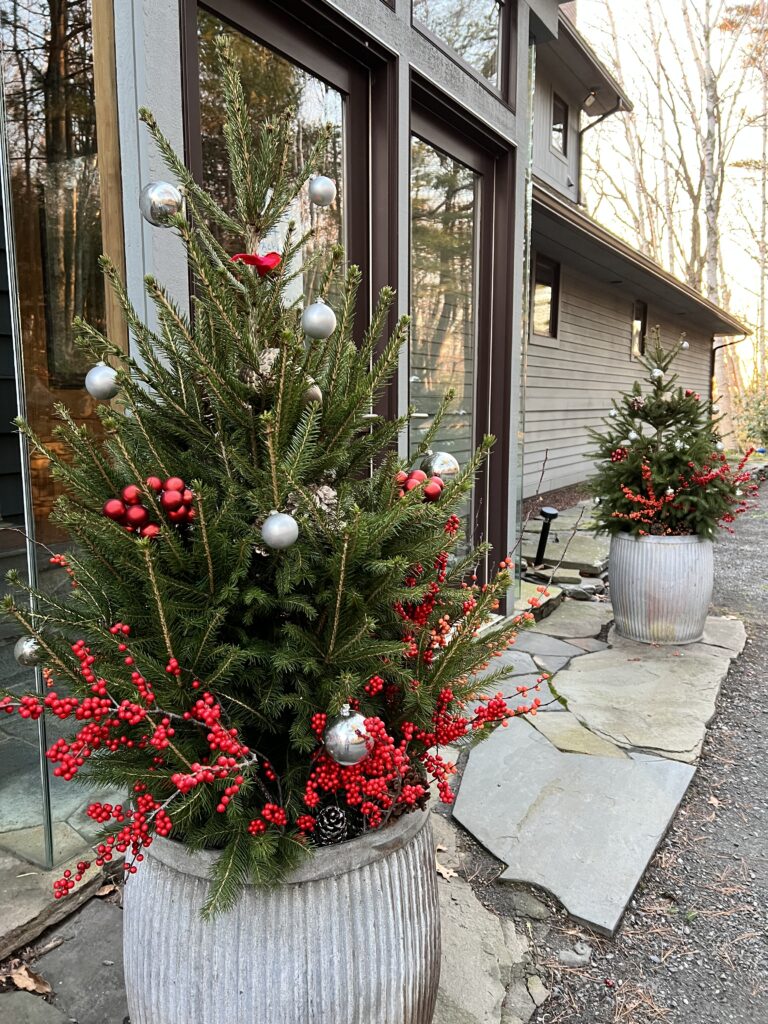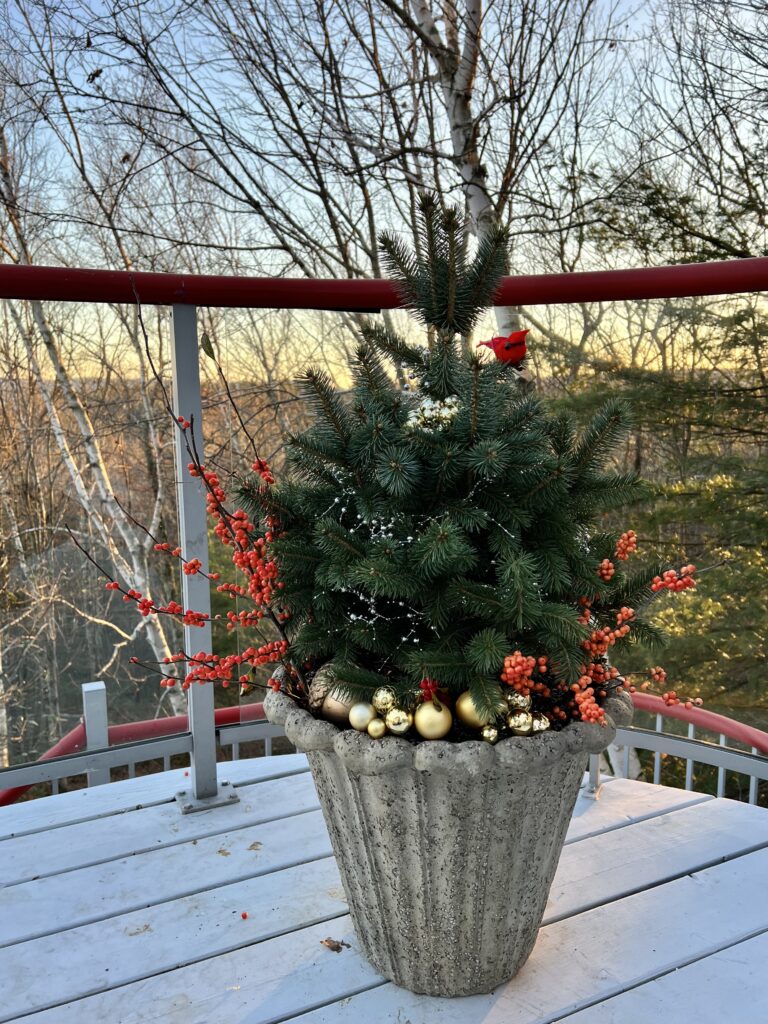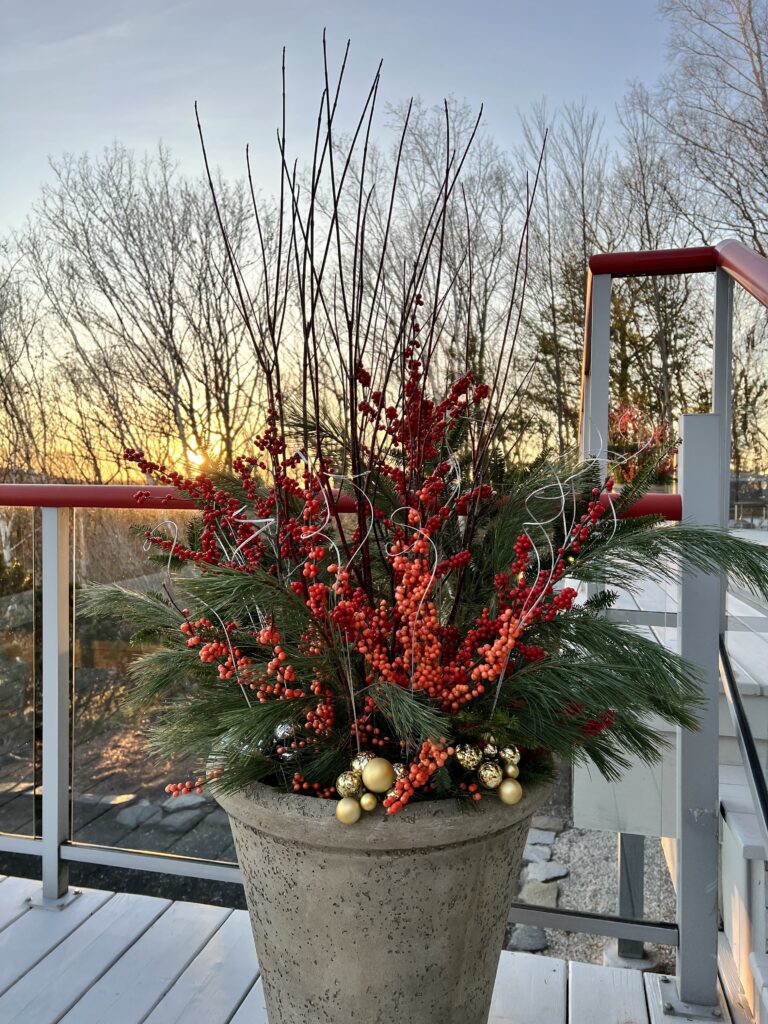 Lastly, Get creative & have fun with it!
Sometimes the best way to start is to just dig in! Working with the cuttings can often be intimidating at first, but you can always carefully re-assemble them to get the look you want. Have fun, get creative, and plant that winter pot!