The purpose of this garden
was to hide a septic tank — however, we are so lucky to work with a client that gives us the creative freedom to do so much more with the space than simply create screening!
Screening is usually focused primarily on taller shrubs that can hide whatever is behind it, which we have incorporated. However we wanted to take it a step further, and think about how to detract the eye to look down.
Designing an Immersive Garden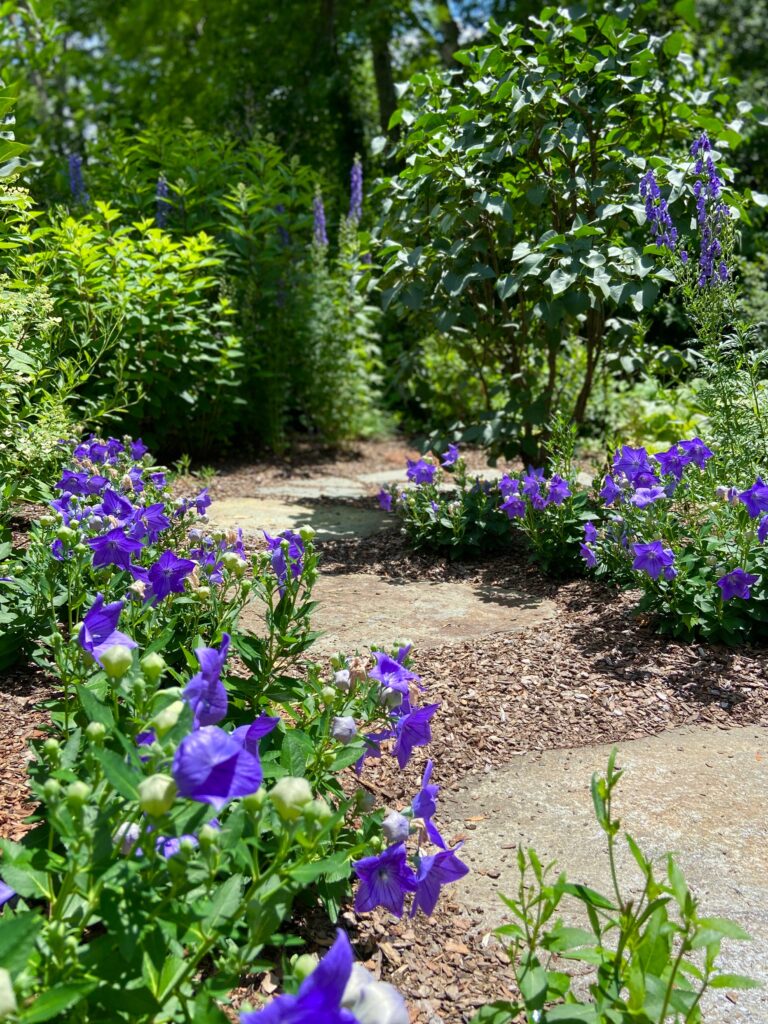 Inspired by the ocean,
we wanted to created this sea of color over the floor of the garden, planting deep blue Balloon Flower in masses.
Balloon flower, also known as Platycodon, is a unique perennial with a whimsical balloon-like ? blossom that pops open into charming star-shaped flower.
➝ It can be found in a variety of heights — dwarf ground cover to a couple of feet tall — as well as in different colors (pink, white and blue).
➝ Balloon Flower is native to Northeast Asia, found in valleys and slopes of Japan, Korea, China and Siberia. In this area, it is referred to as Bellflower, for the charming rounded bell-shape
➝ And YES! It's a Perennial. We love finding unique perennials such as these to add whimsy and character to gardens.
We obviously went with all blue, and incorporated some of a double-flower variety — check it out in the photos below!
Playing more off of the ocean-effect,
Blooming just as the Blue Balloon Flower reaches its peak, we can imagine the white-blooming Hydrangeas as the white-caps of waves — peaking above the sea of blue.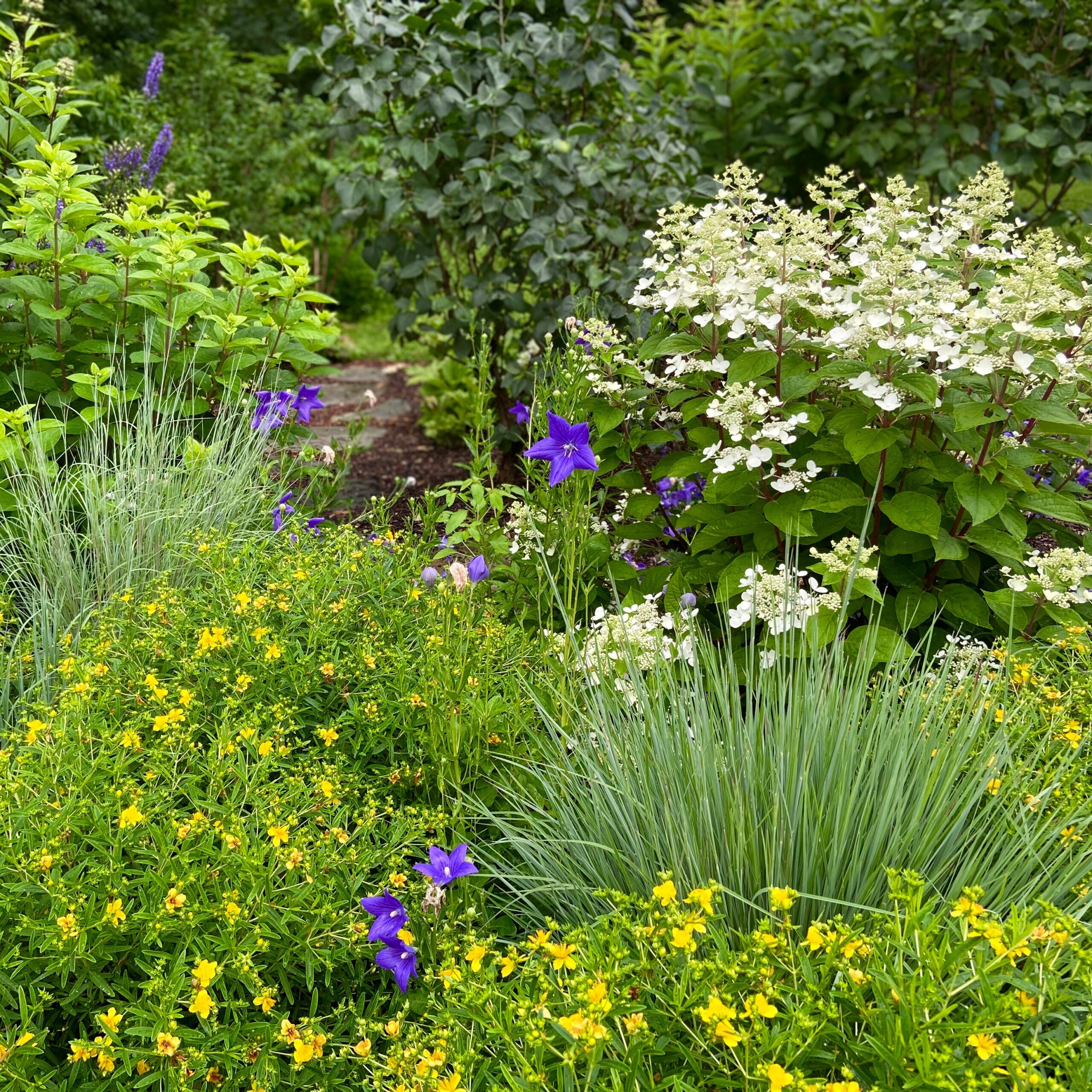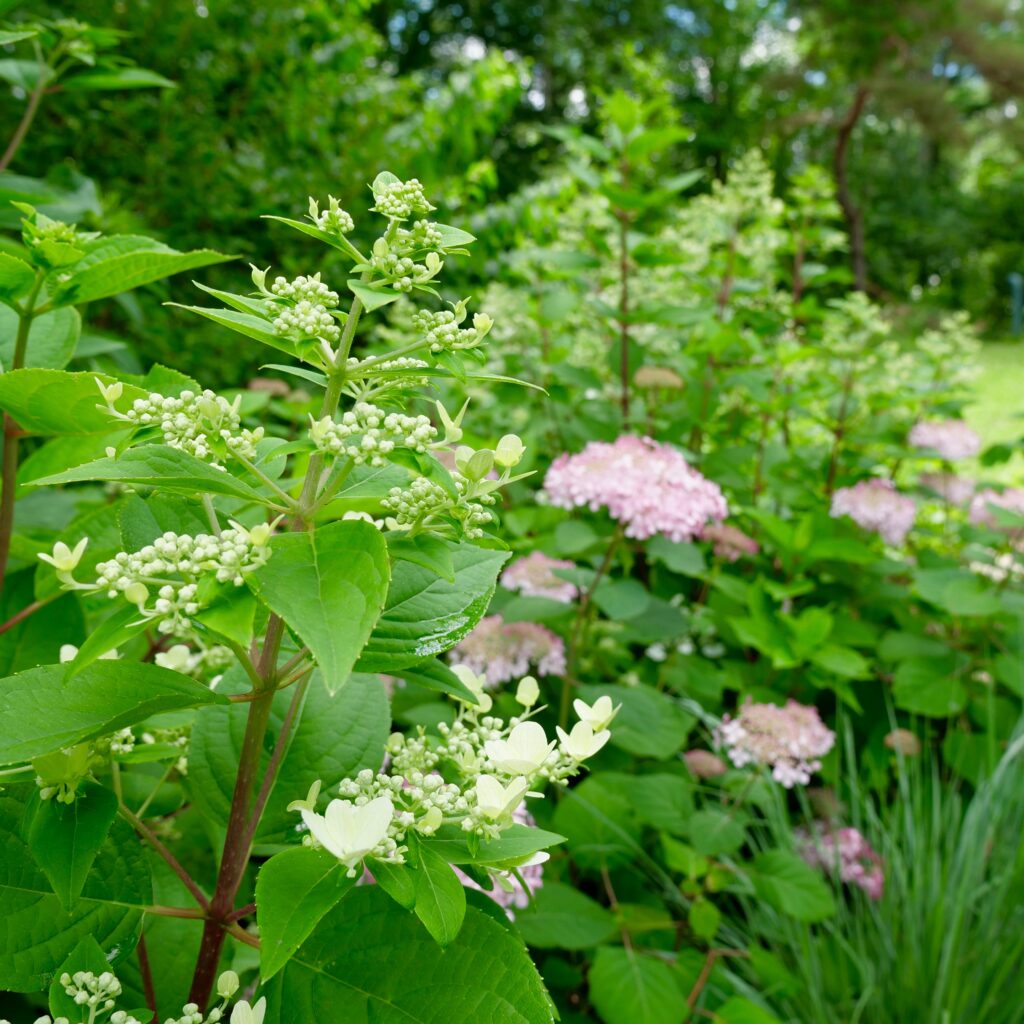 More Color & Contrast
With our initial inspiration setting the foundation for the design, we can flex our artistic muscle and play around with color and textural contrast.
The striking white + bright blue color-combo is accentuated by the grasses — Little Blue Stem — again, playing into the oceanic theme, and adding TEXTURE!
The Hydrangeas, also known as Hortensia, serve as taller screening in this garden design, with showy, lasting blooms into the late summer.
They begin to turn PINK as the season goes on, creating another eye-catching color combination of pink the bright yellow of St. Johns Wort.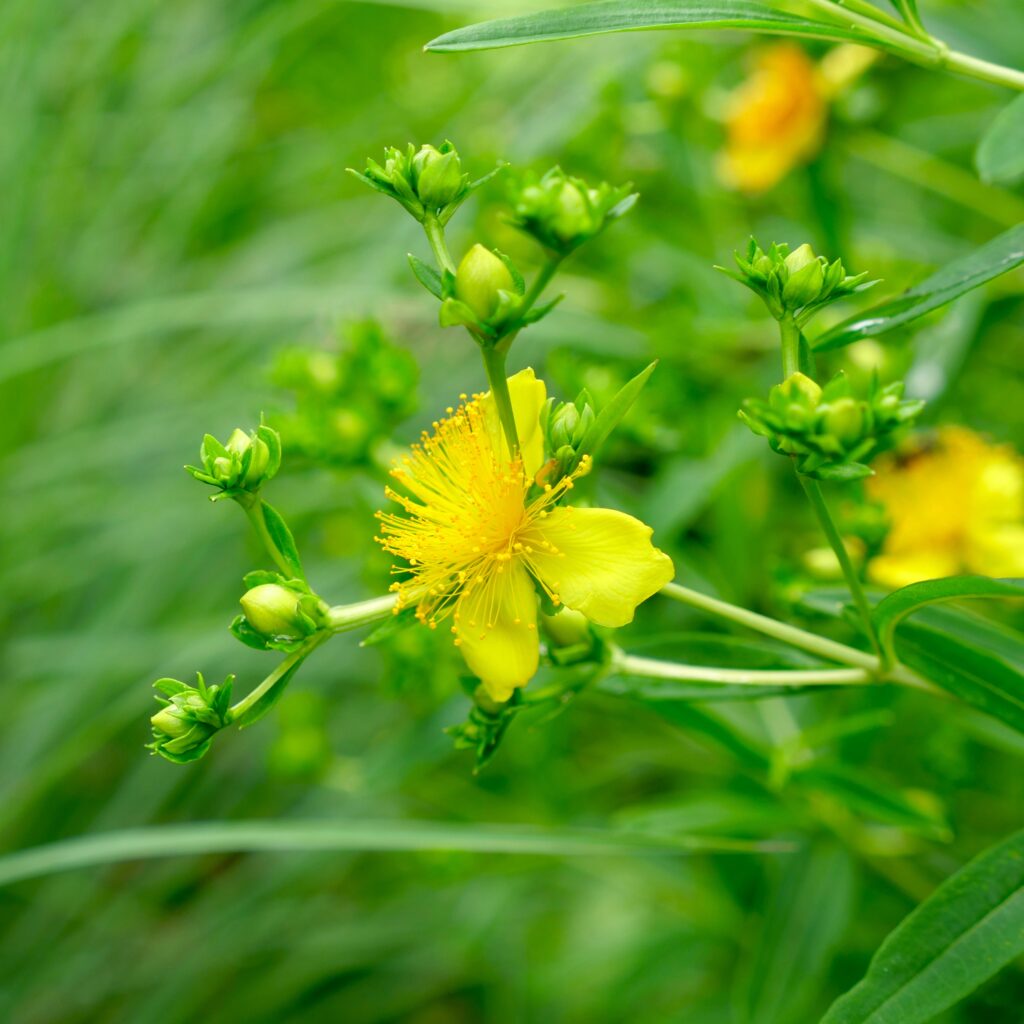 A slew of St. Johns Wort, also known as Hypericum, adds bright pops of yellow to this garden, contrasting BEAUTIFULLY with the purply-blue tone of the Balloon Flower.
The bushy plant fills out the garden bed, and explodes with the cheerful blooms just as the Balloon Flowers are becoming plentiful.
Tiny but showy, the flowers have a fancy tuft of stamens. The happy bunch lingers long enough to mingle with the Pink Hydrangea in this transitional garden.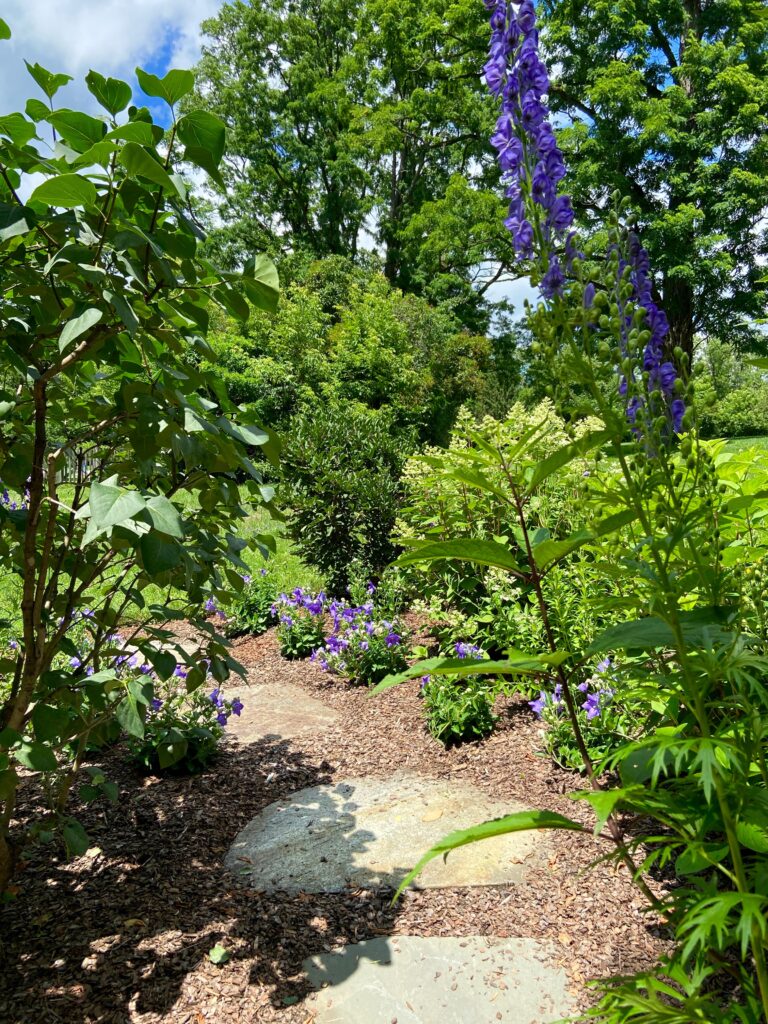 Experience Your Garden!
You may have noticed in some of the photos, but we purposely added a stone walkway through this garden to create a more interactive and immersive experience!
Walking through the garden, you have an opportunity to really admire and appreciate each plant and flower in it — and throughout it's transformative lifecycle.
Like this bee enjoying the Monkshood flower!
Monkshood is also known as Aconitum or Wolfsbane — and can be up to 5 ft. tall!
It has a similar violet-blue color to Balloon Flower.
We truly believe that a beautiful outdoor space can lend a sense of peace and tranquility — and this idea really fuels our passion behind create rich and sensory garden environments.
Designing for Beauty all Season
We realize all of the above highlights are really focused on the mid-summer display of the garden, so we wanted to highlight some springtime design from the same garden. Check out the photos below — featuring fringe tree, Lilac and Allium.
For more on the Fringe Tree, which happens to be our signature planting, check out this post:
https://www.berkshiregreenscapes.com/our-signature-planting-the-fringe/